This advisory on valuing and reporting plan investments has been created to assist you, as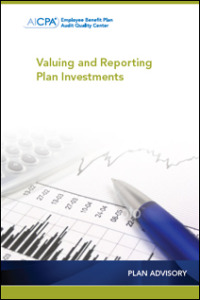 a plan sponsor, in understanding your responsibilities for valuing and reporting plan investments.
This advisory discusses:
Your responsibilities for reporting plan investments;
How plan investments are reported;
Investment valuation and related disclosures;
Your responsibility for valuing investments and establishing internal controls;
Special considerations for alternative investments;
How your independent auditor can assist you; and more.
In addition, you will find examples of suggested controls that plan management may wish to consider.
Download your free copy today and let us know how we can help you make the best plan for your company.