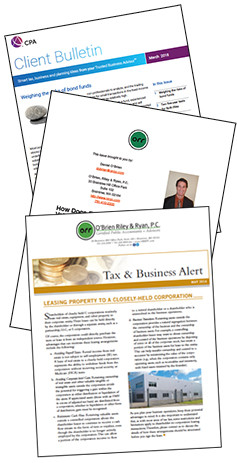 O'Brien, Riley, and Ryan offers several, free newsletters. Join our mailing list to get  your copy emailed to you each month, including the:
CPA Client Bulletin
This newsletter is filled with tax and financial planning tips for the business owner and individuals.
Tax and Business Alerts
March | February | January | December '18
Exit Planning
For business owners who are nearing retirement age or who are at the point of selling the business, this twice-monthly newsletter helps you to prepare for the exit planning and succession planning process, whether it's to an investor, family member, or partner.
March 6 | February 20 | February 5