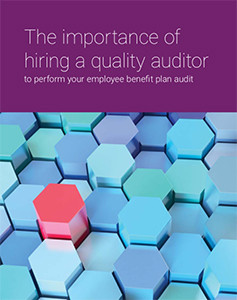 Why is the choice of an auditor important?
A quality audit will help protect the assets and the financial integrity of your employee benefit plan, and it helps ensure the necessary funds will be available to pay retirement, health, and other promised benefits to your employees. In this plan advisory, we will share:
Why the choice of an auditor is important;
Plan auditor requirements;
If you should request references and check licenses;
What you should know about the audit;
Reviewing the audit report, and more.
Download this free plan advisory to help get your team up to speed, and to prepare yourself for hiring an auditor prior to an actual audit.