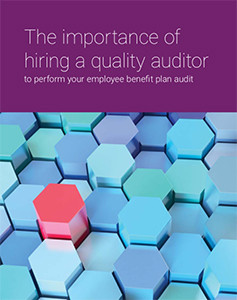 The Importance of Hiring a Quality Firm to Perform Your Employee Benefit Plan Audit, was prepared to assist plan sponsors, plan administrators, and trustee with an understanding of the importance of hiring a quality auditor to perform their employee benefit plan financial statement audit.
This advisory:
Describes why a financial statement audit is important;
Risks to plan sponsors if a quality audit is not performed;
Evaluating auditor qualifications;
The proposal process, including the request for proposal, proposal evaluation and auditor selection; and
Documenting the agreement.
Download your free copy today and let us know how we can help you make the best plan for your company.