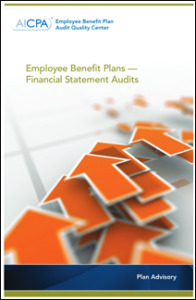 The EBP Financial Statement Audits plan advisory describes the roles and responsibilities of individuals involved in the plan's financial reporting and auditing process, and the purpose, objectives, and benefits of a financial statement audit. Some of the content covered in this plan advisory includes:
The process and management's responsibilities;
Purpose, objectives and benefits of the independent audit;
General audit considerations;
Full scope vs. limited scope;
Audit areas;
Audit process;
Auditor's report, and more.
Download this comprehensive plan advisory and share it with your EBP team in preparation for your audit.