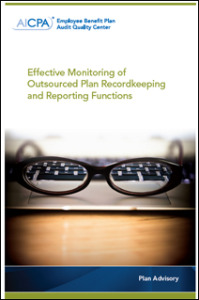 This plan advisory was developed to assist you as a plan sponsor, administrator, or trustee in understanding the importance and benefits of establishing an effective monitoring program over service organizations that perform recordkeeping and reporting functions for your employee benefit plan.
It discusses:
Selecting and monitoring service organizations;
The quality of plan accounting information;
Monitoring service organization controls over plan accounting information;
Special considerations for different plan types (defined benefit, defined contribution, and health and welfare plans);
Suggestions for conducting on-site reviews of services organizations; and
Examples of controls that help ensure complete and accurate plan accounting information and reporting.
Take the time to understand how recordkeeping and reporting might impact your EBP.
Download your free copy today!